ORDER
ORDER
Captioned writ petition pertains to tenders floated by second respondent Municipality for construction of pavements, sheds and other public utilities on 27.02.2015, 30.11.2015 and 02.03.2016. Writ petitioner participated in the tender process, became successful and agreements were entered into. It may not be necessary to delve into more facts and be detained by factual particulars in the light of submission of Mr.A.Sivaji, learned counsel on record for writ petitioner (in the hearing) that he abridges the prayer in the writ petition and it would suffice if there is a directive to the second respondent to dispose of the representation of the writ petitioner dated 07.11.2022 (Page Nos.89 to 92 of typed set of papers).
2. Mr.S.Ravikumar, learned Special Government Pleader accepts notice for first respondent. Mr.B.Anand, learned counsel accepts notice for second respondent. Mr.T.N.C.Kaushik, learned Additional Government Pleader (Tax) accepts notice for third respondent. Mr.Rajnish Pathiyil, learned Senior Panel Counsel for Customs and Indirect Tax accepts notice for fourth respondent.
3. As of now, owing to the abridged prayer, the issue is only as between the writ petitioner and second respondent namely, the employer and the contractor qua tenders and agreements.
4. As already alluded to supra, it is not necessary to delve into facts and it will suffice to say that it is a case of the contractor/writ petitioner that tenders were prior to 01.07.2017 before the GST regime kicked in and therefore, GST incurred by the contractor has to be absorbed by the contractor.
5. Aforementioned representation dated 07.11.2022 as placed before this Court is as follows: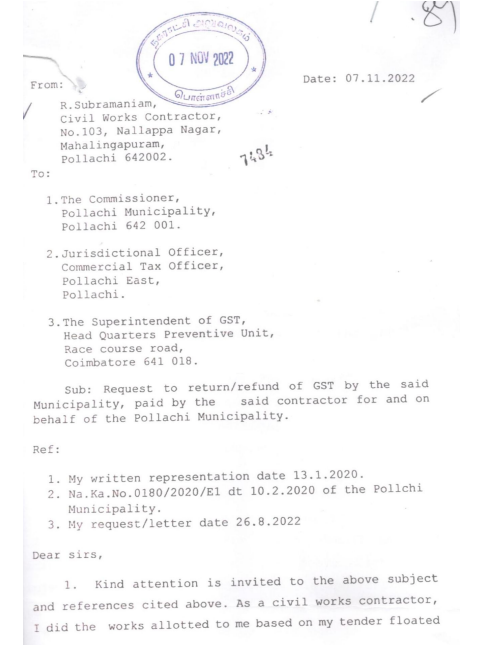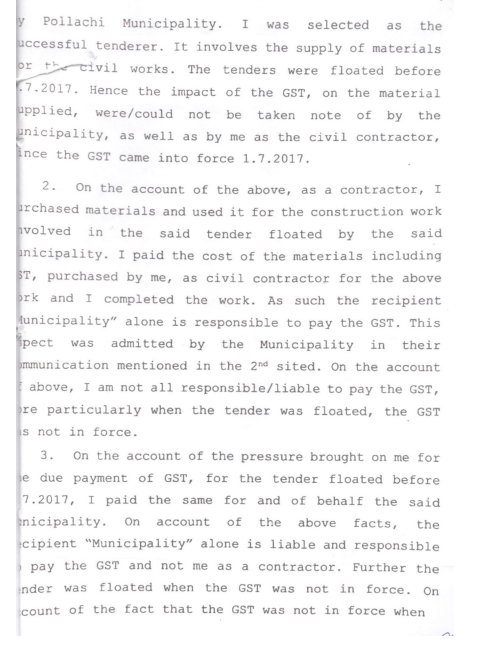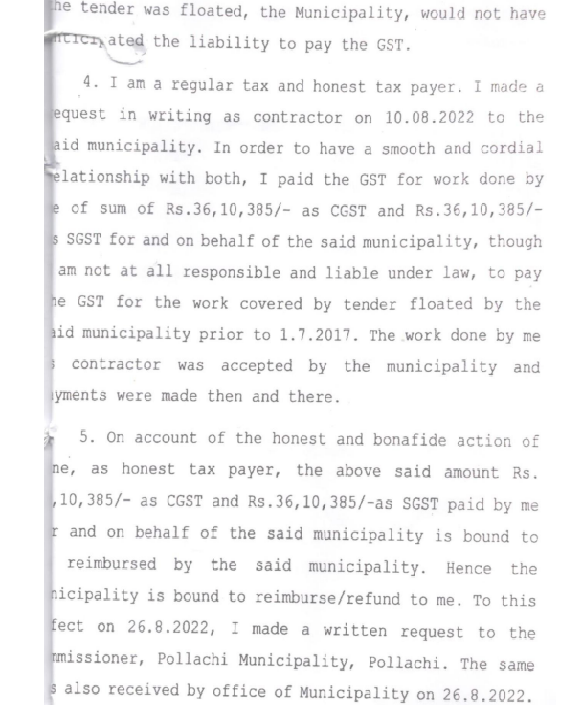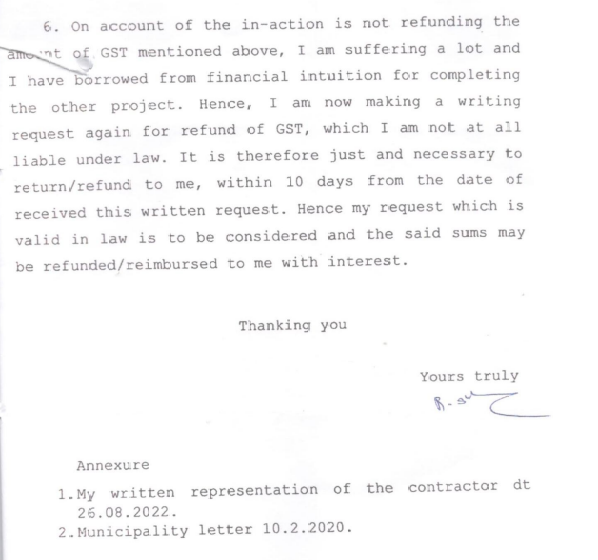 6. In the light of the abridged prayer, captioned Writ Petition is disposed of with a simple directive to the second respondent to dispose of the aforementioned representation of writ petitioner dated 07.11.2022 on its own merits and in accordance with law as expeditiously as the official business of the second respondent would permit and in any event, within a fortnight from today i.e., by 27.12.2022. The disposal proceedings of the second respondent shall be communicated to the writ petitioner under due acknowledgment within three working days therefrom.
7. Though obvious, it is made clear that there is no expression of view or opinion in this order and the second respondent shall dispose of the aforementioned representation on its own merits and in accordance with law. Captioned Writ Petition disposed of with the aforesaid directive.
There shall be no order as to costs.